Juno Magnetic Field Investigation
JOI: 4 July 2016 (day-of-year 186)
FGM Turn on: 23 August 2011 (day-of-year 235)
ASC Turn on: 25 August 2011 (day-of-year 237)
Juno launch: 5 August 2011 (day-of-year 217)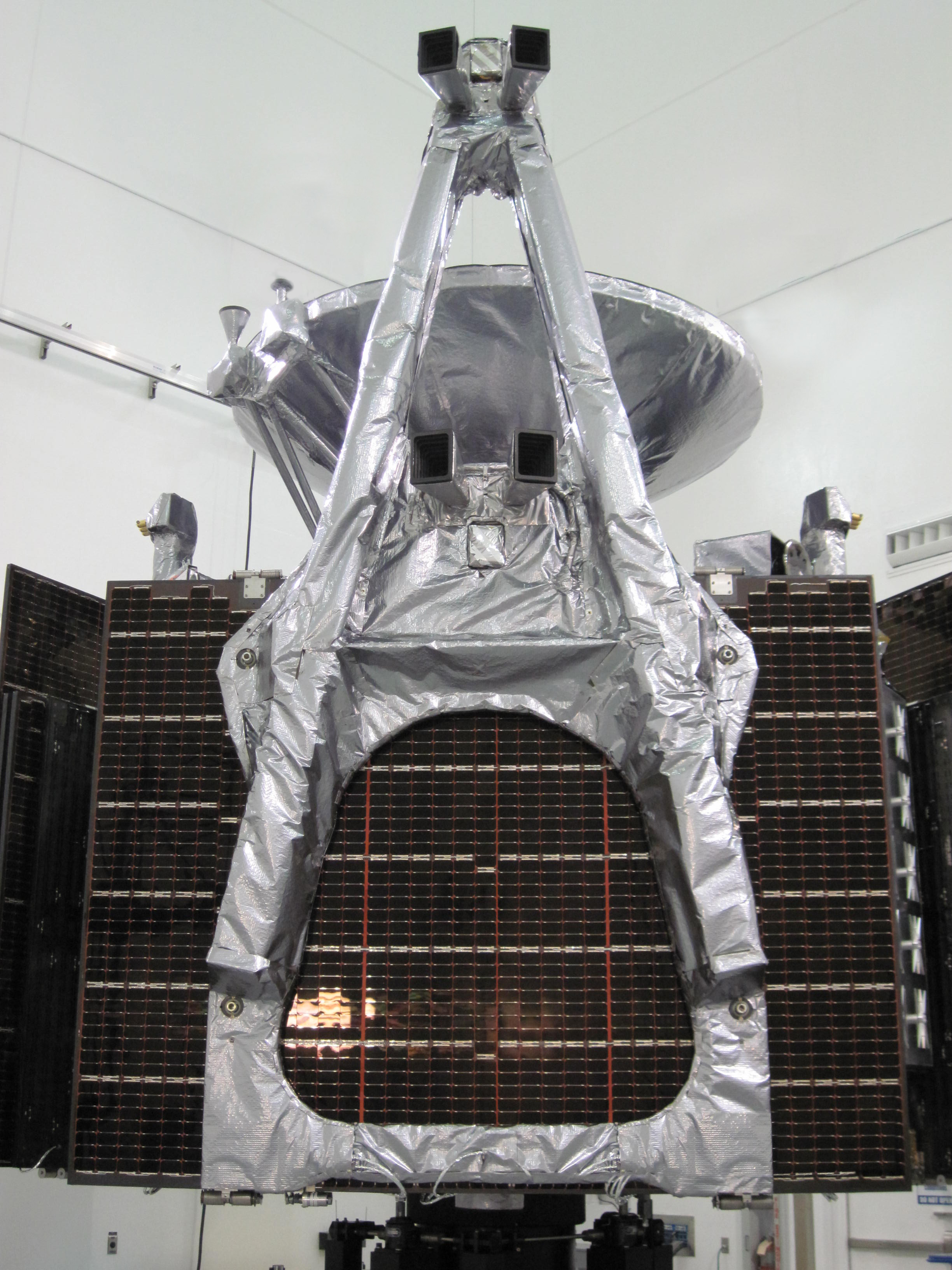 Juno spacecraft during launch preparations in Florida. The two Magnetic Field Experiment (MAG) sensor suites can be seen on the 4-meter-long dedicated magnetometer boom in the foreground. The MAG boom is deployed in flight at the outer end of one of the spacecraft's three solar arrays. The outboard sensor suite consists of a Fluxgate Magnetometer (FGM) visible just above the 2 Advanced Stellar Compass (ASC) light baffles that look outward at a slight angle. The inboard MAG sensor suit is identical, but rotated 180 degrees and located 2 meters away. When deployed, the two sensor suites will be about 10 and 12 meters from the center of the spacecraft. The spacecraft is shown in launch configuration with solar arrays and MAG boom stowed. Image credit: NASA/JPL-Caltech/LMSS
JPEG
(1.3 Mb)
The Kennedy Media Gallery has pictures of the pre-launch and launch activities at the Astrotech payload processing facility in Titusville, Florida and the Cape Canaveral Air Force Station in Florida. Juno launched on the 5th of August 2011 (doy of year 217) at 12:25 p.m. EDT.
The Juno magnetic fields investigation will provide measurements of the Jovian magnetic field over a wide dynamic range. The fundamental objectives of this investigation are to
map the magnetic field,
determine the dynamics of Jupiter's interior, and
determine the three-dimensional structure of the polar magnetosphere and its auroras.
The magnetic field experiment's sensors are Fluxgate Magnetometers. An Advanced Stellar Compass (ASC) will provide accurate information about the Juno spacecraft pointing for precise mapping.
Juno ASC Earth Fly By movie
For more information about Juno, please visit